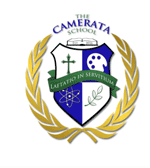 Address:
5780 Virginia Pkwy
McKinney, TX 75071
Phone Number:
(469) 724-2356
Website:
Visit our website!
The Camerata School is a Premier Private Christian School in McKinney
The  Camerata School  is a private Christian school teaching the time-honored tradition of Classical Education with an excellent balance of learning and faith for students from Kindergarten through 12th grade.  They believe every student matters and their faculty, administration and staff are dedicated to providing your student with a quality education built upon Christ-centered relationship.
Conveniently located in McKinney, Texas, one of the fasted growing areas of North Texas, The Camerata School embraces the time-honored tradition of the Classical Education by  integrating the classical Trivium model of education with a strong biblical worldview. The word Trivium is translated from Latin and means "three roads". These three roads are Grammar (educate), Logic (evaluate), and Rhetoric (express).  This teaching style follows a student's natural capacity to learn while moving from child to teen to adult.
The mission at the Camerata School is to equip Christ-centered leaders and cultivate confident creative thinkers for a lifetime of influence.
Categories: 1st through 5th, 6th through 8th, 9th through 12th, C, Kindergarten